One of my most important jobs is to advocate for working families in Ohio. Middle-class families have felt squeezed by the number of jobs going overseas, especially in the manufacturing sector. A report released last week from the Economic Policy Institute found that from 2001 to 2013, the U.S. lost 2.4 million manufacturing jobs to China alone.

Ohio has long been a leader in manufacturing, but in order to remain competitive we must invest in the future. That means investing in advanced manufacturing that will help American companies out-compete and out-innovate our foreign competitors. Last week, Congress took a large step toward making that investment by passing my bipartisan legislation, the Revitalize American Manufacturing and Innovation Act (RAMI).


Sen. Brown at Youngstown's America Makes
RAMI – which I introduced along with Senator Roy Blunt (R-MO) – would create a National Network for Manufacturing Innovation to establish a public-private partnerships between small businesses, industry leaders, and research institutions, giving them the tools they need to compete on a global scale. These regional, industry-led hubs could create thousands of high-paying, high-tech manufacturing jobs for next-generation workers. The legislation passed both the House and Senate last week, and now heads to the President's desk for final signature.

The Ohio State University's (OSU) Center for Emergent Materials (CEM) is a prime example of how collaborative partnerships can bolster manufacturing. The Center – which will receive more than $17 million in funding from the National Science Foundation (NSF) over the next six years – is part of a network of material science labs across the country working together to encourage innovation. The Center also partners with local private enterprises like Lake Shore Cryotronics in Westerville on research and development to advance the field of magnetoelectronics. This is the kind of effort that can collaborate with a National Network of Manufacturing Innovation.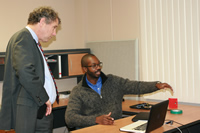 Sen. Brown at Youngstown's America Makes
Earlier this year, the American Lightweight Materials Manufacturing Innovation Institute (ALMMII) – the sort of National Network for Manufacturing Innovation that will be created by RAMI – was announced by the Administration. Co-led by OSU, the University of Michigan, and Columbus's Edison Welding Institute, this ALMMII will promote advanced lightweight materials technology – efforts that will advance manufacturing, like the technology being developed at the Center for Emergent Materials. This project is estimated to create more than 10,000 new jobs in the next five years. With this investment in our workers and businesses, the United States will once again lead the world in manufacturing and innovation.

The first manufacturing network created was America Makes in Youngstown and President Obama has established other institutes across the country.

Innovation is key to our nation's economic competitiveness. We have the knowledge and expertise right here at home to lead the world in next-generation manufacturing. I'm proud of the message that passing RAMI sends: The United States will not settle for second place when it comes to manufacturing. Made in the USA is here to stay.