Tomorrow, May 19, 2012, is Armed Forces Day. This holiday was created in 1949 as a way to thank our servicemembers and their families for their service to our country and the daily sacrifices they make to defend our nation. All across our state - from Youngstown to Dayton, to Lima, and to Mansfield – Ohioans will join together and pay tribute to those who serve.

"As we celebrate Armed Forces Day, we should all pause to thank our servicemembers. The dedication, commitment, and bravery of these men and women is truly inspiring. Our servicemembers sacrifice every day to protect our country, and we are a safer and more secure nation because of it. On behalf of all Ohioans, I would like to extend our most heartfelt thank you to the members of our Armed Forces and their families and communities who support them. I'll continue fighting for them just as they have fought for us" said Sen. Brown.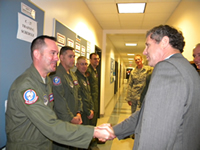 Sen. Brown believes that supporting our troops and their families is a duty we all share. This means we must do whatever it takes to ensure our troops receive the support and resources they need to defend our freedom and security. From providing top-of-the-line body armor and readily-equipped vehicles, ensuring fair pay for service members, and easing the transition to civilian life for returning service members, he is committed to fighting for the benefits earned by Ohioans who serve in our Armed Forces.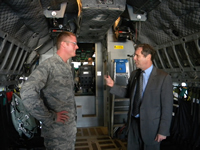 As a member of the U.S. Senate Committee on Veterans' Affairs, Sen. Brown is the author of several legislative initiatives that would strengthen our nation's commitment to veterans by improving education reimbursements, enhance access to VA health care, and expand employment protection for former service members. He has also worked to reduce VA benefits disparities for Ohio veterans and cut down on the VA claims backlog. Sen. Brown cosponsored legislation to help provide job training skills to veterans that was recently signed into law. The Vow to Hire Heroes Act of 2011 provides tax credits to companies that hire unemployed veterans and helps ease the transition to civilian life for returning members of the Armed Forces.

You can learn more on Armed Forces Day here. To learn more about Sen. Brown's work for veterans, please click here.